The footer on your Builder has many different components and opportunities to customize. You can not only choose a layout for your footer and add text, you can also include custom HTML code to the footer as well.
To get started, click on the Builder icon and then the web pages tab.
Scroll down to the bottom of the page and click on the footer button toward the bottom left.
The first option you have to change is the layout. To do so, click on the change button and you will be able to determine where you would prefer for the following items to display: social media icons, text, and links to footer pages. When you have selected your footer layout, click on save changes. 
The footer text section allows you to add a line of text. Typically, this is where your copyright information is placed. 
The next section is for the footer HTML content. This is where you can enter in your custom code, if needed. Some custom code you may want to enter could be a social media feed, a map for directions, or a video. It could also be custom coded footer text with your contact information.
Below the HTML content box, you should enter the width (fit to window is recommended) and height according to how tall your code is in pixels.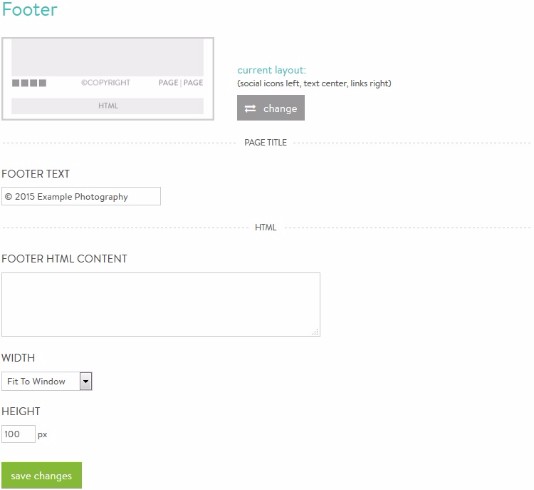 When you've entered all the necessary information, make sure to click on save changes.