Something else that makes it simple to update your PhotoBiz website at any time is the ability to have multiple color schemes saved that you can select to use on your site at any time. Some of our customers have seasonal color schemes they like to change out at different times of the year. This gives them the ability to go back to the same color scheme as last year without having to recreate the color scheme over and over.
In this article, we will go over how to select an existing color scheme to apply to your website. If you need help creating a new color scheme, click here, and if you need help editing an existing color scheme, click here.
To select a color scheme, first access your website by clicking on either the Portfolio or Builder icon. 
From there, hover over design and click on color picker. You will be brought to a list of color schemes on the left side of the page.
Click on the name of the color scheme you'd like to use, then in the middle portion of the page, click the check box for Selct this as my current color scheme and then click on save changes.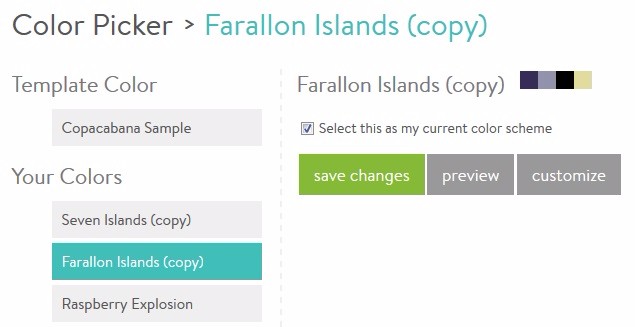 If you're using the Portfolio site, make sure to click on publish and then publish now to make your changes live.