The best way to add a badge to your Splash Intro page is to embed your badge in the Footer Text area of the page.
Before you begin setting this up on your PhotoBiz site, you'll need to get the code for your badge from the site it comes from.
Once you have your badge's embed code, go to your Portfolio control panel and click on Splash Intro and then Page Settings.
In the page settings section, scroll down to Footer Text and paste the HTML embed code there. 
Tip: If you want your badge to be centered, enter center tags before and after the badge code. See example below: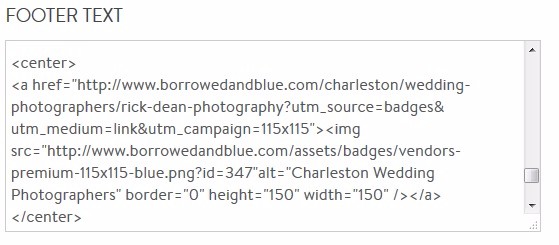 When you're finished with adding your information to the Footer text, make sure to click on save changes. And when you're ready for your changes to be live on your website, go to publish and click on publish now.