An information page is perfect for displaying text and images. On your Portfolio Site, you have the ability to add an unlimited number of information pages. Information pages are commonly used for About Me, Pricing/Investment information, Services, and FAQ pages. We recommend using information pages when you have any kind of information to share on your website, because Google gets most of its information about your website from text on the pages of your site. For this reason we recommend having an About page, an FAQs page, and another page with more details about your services/products. This gives Google lots of rich text content to crawl when they are indexing your website.
If you're having trouble figuring out what to write on your About Me page, check out our blog articles on the topic: How to Write an About page and 3 Ways to Show off your Personality.
To get started on an information page, go to your Portfolio icon at the top of your control panel and click on the web pages tab. You may already have some information pages on your site that you can click on in the left-hand column, but if you need to add a new one, click on new page and select info page from the list. This will add a new information page to the bottom of your list of pages. You can use the drag and drop feature to move the page where you want it to appear in your menu.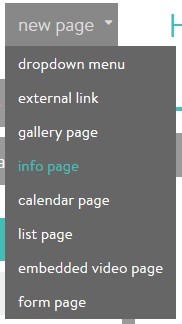 When your new page is positioned where you'd like it to be in the menu, you can start setting up your page. You will see multiple tabs to help you with adjusting the different settings of your info page.

Content: You'll use the content box to add the text content you'd like to appear on this page. 
Note:  
Images: If you'd like to display image(s) with your information, this is where you will add the images you'd like to appear on the page. Use the upload or clipboard button to add your images either from your computer or from your clipboard, respectively. Images on an information page will always show to one side of the page with the text on the other side. 
Note: We recommend using vertical/portrait style images on info pages. Horizontal/landscape style images will show with the text on top of the image on one side. This feature can be beautiful if you choose a horizontal image where the subject is to one side and the other side of the image is mainly blank or all one color.
Slideshow: This section allows you to select the transition and speed of your images on this page. Note that these settings do not apply if you only have one image on the page.
Music: This is an optional feature that will allow you to add up to three music selections to this info page. 
Page Details: This is where you have the option to rename your page, as well as control the page visibility and access the direct page link. The navigation name is the name that will appear in the menu for this page, and the page name controls the title of the page that will show above the text. These names can be the same or different. Generally, the navigation name will be shorter (example: "About") and the page name will be longer (example: "About Your Photographer")
Layout: In this section, you can choose what side you'd like the text/image to display on. You can select either Left or Right.
SEO: This section allows you to add page-specific SEO information.
Note: Do not copy and paste the same title, description, and keywords for each page. This is considered duplicate content.
When you've completed your page and you're ready to apply the changes to your live website, make sure to go to publish and click on publish now.