A great thing about having a PhotoBiz website is that you have the ability to reorganize and edit your website with ease any time you like! While you're doing this, you may want to reorganize your web pages by re-ordering them. As you add new pages, they will all go to the bottom of your list of pages, and you'll want to reorder those pages as well. 
To access your web pages, go to the Portfolio or Builder icon and click on the web pages tab. To re-order pages, click on the page name and hold down your mouse button and drag the page up or down depending on where you want the page to go. When you do this, you will see a grey page button appear and as you move the page, you'll also notice a blue line. When that blue line is in the position where you'd like the page to be, release your mouse button.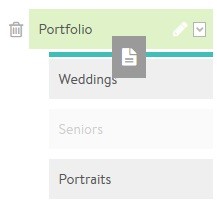 If you're using a Portfolio site, you'll need to go to publish and publish now when all your pages are in the position you want them to be.