Virtually every time you add a page to your website, you'll need to rename that page. When you add a page to your site, the name of the page is always "Extra _____" to reflect the type of page you just added. Keep reading to find out how to rename your pages. 
To access your web pages, go to the Portfolio or Builder icon and click on the web pages tab. 
In your list of pages, mouse over the name of the page you'd like to change and a pencil icon will appear within the name of the page. 

When you click on the pencil icon, the page name will pop out into a larger box that you can edit. When you've changed the name to what you want it to be, press Enter or Return on your keyboard, or just click outside of the box and it will save your changes.

You'll do this to change the Navigation Name of your site. Some pages only have a navigation name (for example, dropdown menu pages and external link pages), but most other pages also have a separate option for Page Name. 
To update the Page Name that appears on the page after it has been clicked on from the menu, you'll need to click on the name of the page in your web pages and then click on the Page Settings tab (in Portfolio sites) or the gear icon (in Site Builder). This will show you both the navigation name and the page name so you can update them as needed.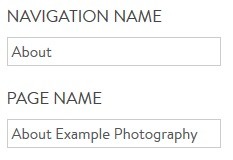 Make sure to click on save changes when you've renamed the page.
If you're using a Portfolio Site, make sure to go to publish and click on publish now when you're ready for your changes to reflect on your live site.