There are lots of different options regarding how you can have your social media icons displayed on your website. If you'd like to test out the different choices you have and save your preference, follow the steps below.
First, to access your Social Icons, go to either your Portfolio or Builder icon at the top of your control panel. Select the web pages tab and then click on the button for social icons.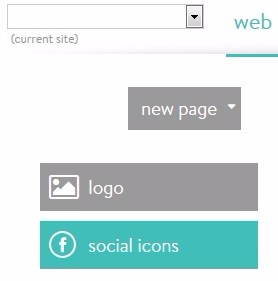 This will bring you to a list of the icons you are currently using. To access your icon settings, click on the Settings tab if you are using the Portfolio or click on the gear icon at the top right if you are using the Site Builder. 

Your Icon Syle options are designer or standard:
Designer icons are more graphic and stylized icons. They appear larger than the standard icons, and they are styled to match the template you have selected.
Standard icons use the standard icon straight from each social media site's logo. They appear smaller and less graphic than the designer icons.
Your choices for Icon Color Settings are grayscale or original icon colors. 
You can choose any combination of the above choices. When you've made your selections, make sure to click on save changes. If you're using the Portfolio Site, make sure to go to publish and click on publish now to make your changes live.