A calendar page is a great way to allow your clients to request your services on a certain day, while also allowing you to show your clients when you're already booked. It is an interactive tool between you and your clients. When someone requests services on a specific day, they have to select that day first, then you will receive an email notification of their request and have the opportunity to get back to them on whether or not you can accomodate their request. 
Currently, our calendar page does not allow for clients to choose a specific time slot. When you mark a day as "booked" in your calendar page, it will block out the entire date and not allow anyone else to select that day when requesting your services. For this reason, we recommend only marking the day as booked when your entire day is booked.
To add a calendar page to your website, start by clicking on the Portfolio icon at the top of your control panel and click on the Web Pages tab. 
Next, click on new page and select calendar page. This page will be added to the bottom of your list of pages as "Extra Calendar". You can drag and drop the page using the Extra Calendar button to place it where you'd like it to appear in your menu.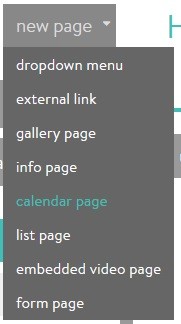 When your new page is positioned where you'd like it to be in the menu, you can start setting up your page. You will see multiple tabs to help you with adjusting the different settings of your gallery page.

Dates: This is the section you will use the most on your calendar page. Here, you will be able to see the dates on your calendar that are booked (they will be shaded in blue) and you will also be able to add more booked dates to the calendar by navigating to that day, clicking on it in the calendar, and entering the booking details. 
Note: When your client requests a date, it does not automatically mark that date as booked, you will need to access this calendar page and mark the date as booked. The booking details you include on this page are not shown on your live site.
Content: This is where you can add some text to the calendar page that will show when clients access the page on the main site. We recommend including something like "To inquire about my services on a certain day, please select your preferred date and complete the form provided."
Page Details: This is where you have the option to rename your page, as well as control the page visibility and access the direct page link. The navigation name is the name that will appear in the menu for this page, and the page name controls the title of the page that will show above the text. These names can be the same or different. Generally, the navigation name will be shorter.
Layout: In this section, you can choose what side you'd like the text/calendar to display on. You can select either Left or Right.
SEO: This section allows you to add page-specific SEO information.
Note: Do not copy and paste the same title, description, and keywords for each page. This is considered duplicate content.
When you've completed your page and you're ready to apply the changes to your live website, make sure to go to publish and click on publish now.