Music can be added to two different page types in your Portfolio Site: Gallery pages and Info pages. In your Site Builder, music can only be used on gallery pages. To add music to your website, follow the steps below:
First you'll need to access your website by clicking on either the Portfolio or Builder icon at the top of your control panel.
From there, click on the web pages tab and then click on the page you'd like to add music to. Make sure it is either a gallery page (Portfolio or Site Builder) or an info page (Portfolio only). 
In the Portfolio Site, click on the music tab.
In the Site Builder, scroll down to the Images section and click on the music button.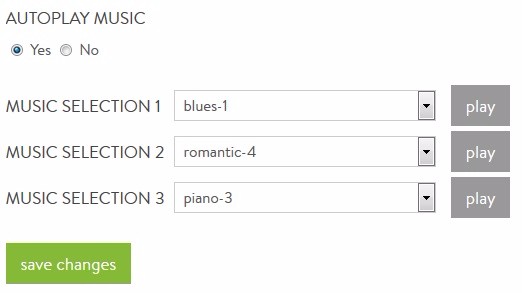 In this section, you can choose whether or not you'd like your music selections to auto-play, then you can select up to three music selections to associate with the page. If you'd like to preview a music selection, open the drop down menu and select the song you'd like to hear, then click on the grey play button. When you've made all of your selections, click on save changes. 
You can also upload your own music files to use. For assistance on uploading your own music, click here.
Note: On mobile devices, music will not be played. This is because someone using a mobile device is more likely to be in a public place where they will not want unexpected music to begin playing.
Note: In general, we do not recommend using music on your website. It can easily startle or offend viewers and make them more likely to click away from your website rather than looking for the mute button. We do provide the option for music because we understand that in some cases it can be a very important aspect of some business' brand.